Ever feel like you just don't have enough light in your kitchen? Preparing food in a poorly-lit kitchen can be a frustrating experience--and even a risky one when it comes to slicing and dicing ingredients with sharp kitchen knives. However, with just a few lighting upgrades, you can transform your kitchen into a bright, energetic room where it's easier and safer to prepare meals.
When it comes to good, old-fashioned practicality, these functional lighting fixtures do not disappoint.
Overhead Lighting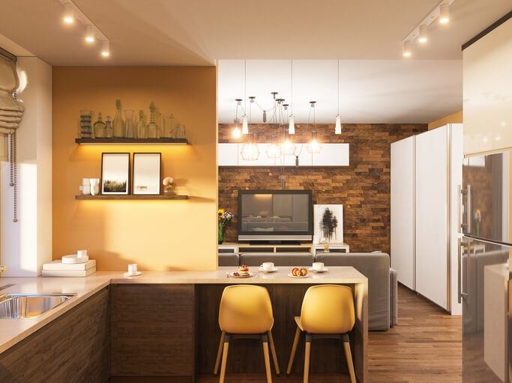 Recessed Lights
Recessed lights are immensely popular for a couple of reasons. Because they don't protrude from the ceiling, they can make your kitchen appear more spacious, and they don't have as much surface area to dust. Recessed lights are also versatile in that they can be grouped more closely together to provide task lighting or can be installed farther apart for ambient lighting. Directional recessed lights can be installed as well to provide strong light to a particular area of your kitchen.
Surface Lights
If you don't have enough space in your kitchen ceiling to install recessed lighting, surface lights are another relatively unobtrusive option. Even though a surface light will protrude from your ceiling (unlike a recessed light), there are exceptionally thin options on the market for a sleek look. With LED lights also available in this style, you won't have to worry about this lighting option heating up an already warm kitchen.
Track Lights
Track lighting not only looks ultra-stylish in a minimalistic, contemporary kitchen, but it also has numerous advantages. Track lighting is easy to install and allows you to leave a ceiling with interesting architecture relatively intact. Also, because this lighting is on a customizable track, you can make that track go anywhere you want, even around curves. Spotlights and directional lights can be installed on the same track so that you can get the most functionality out of one fixture.
Kitchen Island Lighting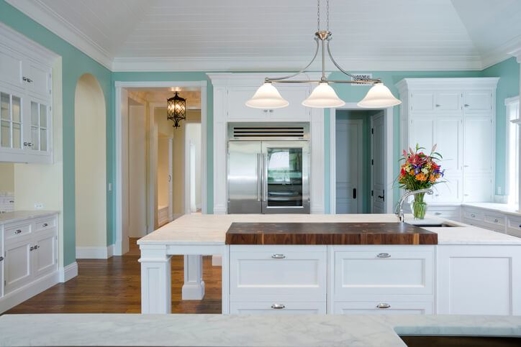 Pendant Lights
Pendant lights not only provide task lighting over your kitchen island, but the right set can also make your island a stylish focal point. The number of pendant lights you'll need depends on the size of your island and the size of the lights you're interested in installing. While you don't want inadequate lighting, it's important that pendant lights don't look crammed together.
Multiple Lamp Fixtures
Whereas each pendant light is installed individually from the ceiling, multiple lamp fixtures contain--you guessed it--multiple lamps on one fixture and require only a single connection on your ceiling. An advantage of this is that you can get the same amount of light as you would from multiple pendant lights but with a less "busy" look.
Cabinet Lighting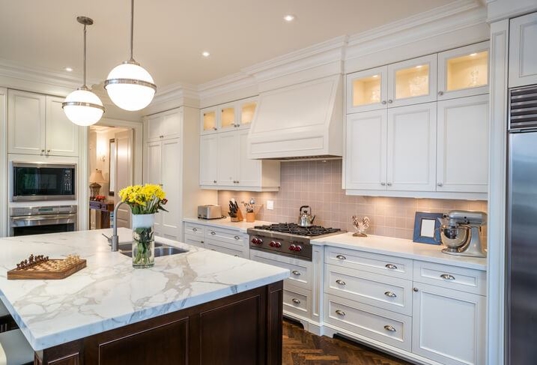 In-Cabinet Lighting
Lighting inside cabinets makes it much easier to see what you have inside them. If you have cabinets with clear or frosted glass doors, lighting inside your cabinets can also add an inviting ambiance to an otherwise utilitarian area of your home.
Under-Cabinet Lighting
Sometimes overhead task lighting just isn't enough when you're trying to perfectly julienne vegetables or obtain precise measurements of ingredients. This is where under-cabinet lighting gets its chance to shine--literally. Getting LED lights installed beneath your cabinets will make a world of difference when it comes to better visibility.
Light Up Your Life
At All Electric Services, our Lake Mary electricians can help you achieve that perfect balance between form and function with your kitchen lighting. Furthermore, you'll know that the installation is completed safely and up to code. Contact us online today or call us at (407) 890-7782.